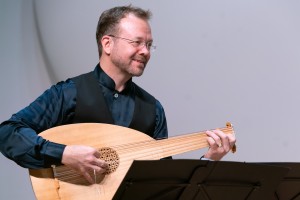 This is the edited video of the 14th interview of the series "A Coffee With…". On this occasion my guest was the German musicologist and lutenist Marc Lewon, who is the director of the early music Ensemble Leones. The original "Coffee with…" took place on Friday July 28th 2020 on my Facebook wall. It was simultaneously transmitted on Music Without Quarantine.
Marc Lewon was born in Frankfurt am Main in 1972 and has dedicated his life to the research, diffusion and performance of early music, especially medieval music.
In our virtual conversation over coffee, we speak about Marc's early years when he took up the guitar and started to play in street markets. Then things evolved towards the field of early music, precisely medieval music. We also speak about his music studies in Germany, the United Kingdon and Switzerland, at Schola Cantorum Basiliensis.
Previous "Coffee with…" guests were: the conductor Marco Antonio García de Paz, the music critic Arturo Reverter and accordionist Iñaki Alberdi, the composer & music critic Robert Hugill, the bass singer & lutenist Joel Frederiksen, the conductor Cristóbal Soler, the music agent Andreea Butucariu, the musicologist & cornetto player Bruce Dickey, the orchestra conductor Mei-Ann Chen, the lutenist Hugo Sanches, the music entrepreneur Katarina Gurska and the musicologist Miguel Ángel Marín.
Here you are a list with the previous 13 videos of the series "A Coffee With…"
1. Un café con Marco Antonio García de Paz (español)
2. Un café con Arturo Reverter (español)
3. Un café con Iñaki Alberdi (español)
4. A coffee with Robert Hugill
5. A coffee with Joel Frederiksen
6. Un café con Cristóbal Soler (español)
7. Un café con Andreea Butucariu
8. A coffee with Bruce Dickey
9. A coffee with Mei-Ann Chen
10. A coffee with Hugo Sanches
11. A coffee with Jennifer Higdon
12. Un café con Katarina Gurska (español)
13. Un café con Miguel Ángel Marín (español)
With this "virtual coffees" I woud like to let people know and get to know my guests a little bit better.
Michael Thallium
Global & Greatness Coach
Book your coaching here
You can also find me and connect with me on:
Facebook Michael Thallium and Twitter Michael Thallium